Until May of this year, John Walker Pattison had worked as a clinical nurse specialist in hematology at South Tyneside District Hospital, after a period of work at the Redhead Shipyard while still operational.
He finally decided it this year because of pandemic pressures and lingering breathing problems from radiation and chemotherapy he had decades ago to treat lymphoma.
After spending much of the pandemic writing children's fiction, Mr Pattison set out to see through the publication of his first story, in which he stars alongside his three-year-old grandson Daniel. years.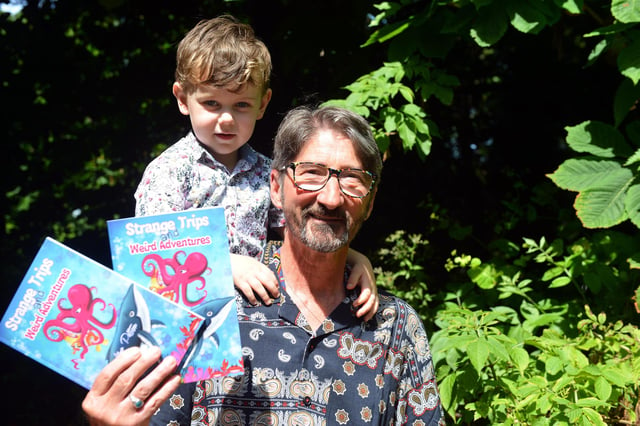 Strange Trips and Weird Adventures children's storybook by author John Walker Pattison with his three-year-old grandson Daniel James Walker Martin.
"Strange Trips and Weird Adventures" was released on Wednesday, June 30 and is now available to order.
Of what inspired Mr. Pattison to write the story, he said: "When it comes to my grandchildren, I have always been what I would call a 'typical grandfather', in the as I have always been very elastic with the truth.
"So I would always tell the grandchildren that I was in SAS, that I swam across the Atlantic Ocean in one day, that I climbed Everest – all those kinds of things, you guys. know.
"And then when Daniel, our grandson, arrived, I wanted to put it all down on paper. It was also kind of influenced by the pandemic, as well as my poor health.
Daniel James Walker Martin, three years old with his grandfather Strange Trips and Weird Adventures children's storybook.
"That's right from there that it developed – 'Strange Trips and Weird Adventures' became exactly that."
The retiree is now looking to visit his work and bring the joy of reading and storytelling to classrooms across the region once Covid restrictions allow.
He also spoke of the difficulties in securing the support of a publisher, as well as preparing the manuscript – which he wrote by hand – for submission when much of the industry has undergone a digital transition.
"The Word is going to invite me to do workshops and readings in October," Pattison said.
Strange Trips and Weird Adventures children's storybook by author John Walker Pattison.
"I have also written to a few schools and to anyone who really wants to listen. I am more than happy to travel.
"Finding a publisher was difficult – much like with JK Rowling, there was a lot of refusal before somewhere agreed to do it.
"The stories were all handwritten – I'm a dinosaur with the technology. Writing it was the easiest part. But, with the little proofreading and preparation, before sending it to the editors, I had to enlist the help of my sister-in-law – who helped format it spelling and grammar wise.
Mr Pattison is also working on other titles in the series, two of which – titled "Blenkinsop Blabbermouth and the Ghost of Captain Broderick McCaffery" and "Splodge City's Fastest Water Gun" – have already been completed.
Copies of "Strange Trips", which were published by the Austin Macauley Ltd publishing house, are currently on sale at the Word Center in South Shields.
Read more
Read more
Inside Wyvestow's – the owners of South Shields Bar and Bistro hope to generate meaning …
Enjoy unlimited access to local news, the latest football stories and new puzzles every day.
With a digital subscription, you can see fewer ads, enjoy faster load times, and access exclusive newsletters and content.